There is so much science and knowledge out there and it can be difficult to grasp how to translate it so it is relevant to you and apply it to food environments, the home, schools and workplaces. Feel Good Family have created our own approach to make it simple to apply the science and generate behaviour change. We have developed a 3-stage process called #shapeIT #doIT #liveIT.
Science underpins our systemised approach and is embedded in everything we do. We regularly research the latest studies and thinking and identify simple, seamless and practical solutions that can be implemented in a way that is effective and will be maintained.
There's no magic bullet to changing behaviour as there's nearly 50 years of deeply entrenched habits including snacking, not eating the right balance of food groups, large portion sizes and eating at all times of the day. However, it is possible to carve a new path and create new habits by embedding a number of solutions over time in your environment until feel good choices become the norm instead.  Each factor needs to be effective, and you need to implement a range of them to make a difference.
Our first book, Healthy Profit, outlines a range of factors that can make a difference to customer food choices within food environments and outlets, and Super Yummy covers how taste descriptors work to influence food decisions and which taste descriptions are most likely to influence food choices.  Follow us on social media and sign up to our email updates to find out when we release resources for other environments and settings.  Our unique approach is a refreshing change to traditional efforts to change behaviours.  Health by stealth is the mission, where you change the environment to guide people towards better food choices, as we will always be driven by our senses when it comes to food.
Our behaviour change system #shapeIT #doIT #liveIT consists of three steps: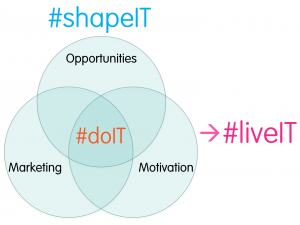 Step 1    #shapeIT
There are three areas we need to shape in order to change eating behaviours: opportunities, marketing and motivation.
Shape opportunities The food offer and environment needs to be shaped to increase the number of feel good foods on offer and make people notice them. If feel good foods are the in the most prominent positions, easy and convenient to choose and they stand out then they will become the automatic choice.
Shape marketing For as long as there has been something to sell, we have been marketing. Why should selling feel good foods be any different?  Feel good foods need to be marketed effectively to compete with the branded products and energy dense foods on offer. Visual, verbal and written communication needs to be shaped to engage more effectively with our emotions and make messages memorable. Raise awareness of the foods you want people to choose, tell stories about the feel good food and why we should want to eat it, and create a culture where everyone is eager to try the food on offer. Develop understanding about eating a balanced diet in ways that work, as increasing knowledge about health isn't enough to change behaviour.
Shape motivation We need to be motivated to eat feel good foods. This can be through great presentation methods making food look tempting, tasty descriptions, reward schemes, meal deals, promotions, branding and messages about immediate benefits resulting from eating the food such as more energy or feeling fuller for longer (…best to avoid talking about reducing cancer or heart disease or other future benefits as it's not that motivating in the here and now when we're hungry).
All too often initiatives that try and get us to eat more healthily focus on one or two of these areas, not all three.
You are probably doing a lot of great things already and that's why we say no 'gung ho' behaviour please. Do not suddenly ditch any great ideas that are already working in your environment.
You need to shape opportunities, marketing and motivation to have an impact. Not only that, but you also need to use methods that work. Perhaps you have made feel good foods available, but people aren't aware they are available or the food descriptions aren't very tempting. Or maybe you have shared information about what foods we need to eat to be healthy, but the knowledge alone isn't enough and they aren't motivated to eat the options available.
Our Healthy Profit book outlines many tried and tested methods that are effective within food environments such as cafes, canteens, restaurants and schools, and you can pick and choose which ones you think will work for you. We want you to preserve the best things that are already happening within businesses and strengthen the overall approach. The aim is to complement, not compete with, what you are already doing.
Applying the science gradually as you shape your environment will lead to:
Step 2    #doIT
 People's behaviour changes and they automatically make feel good choices.  Rather than it being a mindful active choice to be healthy, feel good food choices become mindless and automatic without over thinking them because they are naturally desirable.
Step 3    #liveIT
 As time goes on and more 'Passives' start making feel good food choices we come to the tipping point where it becomes the social norm to eat well, creating a new culture. This leads to a wider impact such as improved health and well being, a change in perceptions about food, and improved economic well-being of the country. #liveIT is what we are aspiring for.
Don't forget to #proveIT
As science is at the heart of our system, we are confident you will get great results.  Food environments can measure this through sales, ingredients purchased and waste figures and customer feedback.  We ask if you could share your successes with us so we can help other environments start the journey to feel good foods and healthy profits.
All our behaviour change solutions embed #shapeIT, #doIT, #liveIT.  Find out what's available in our shop to start your journey.