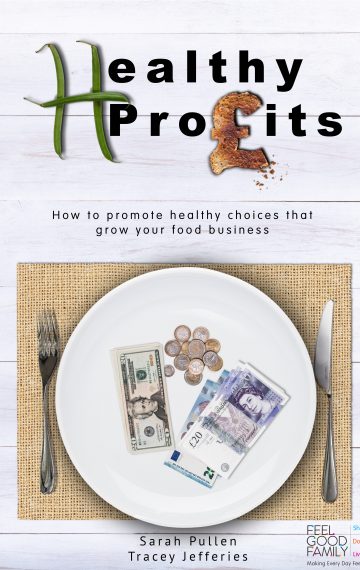 New release!
Paperback £12.99
Publisher:

Feel Good Family

Edition:

1

Available in:

Kindle ebook via Amazon (kindle device not required), paperback via our website, discounts for bulk purchases

ISBN:

Ebook: 978-1-912705-01-6 Paperback: 978-1-912705-00-9

Published:

November 5, 2019
Purchase ebook via Amazon
Purchase paperback via our website
How to promote healthy choices that grow your food business
If you want to join the global movement to shape your food environment for health and wealth then this book is for you. Sarah and Tracey show you how, through the application of practical behavioural science, this can be a profitable choice for your food business.
Introducing you to easy-to-implement and low-cost ideas from the latest research, they will help you to: nudge customers towards healthy choices by shaping how you present food; use clever marketing to drive demand for healthier foods; increase customer motivation to select your healthy food offer and come back for more. They also show you how to use tools such as taste suggestibility, menu design, choice architecture and reward schemes, as well as giving insight into the latest customer trends. This book is packed with ideas of how you can reinvigorate your food and drink offer, strengthen customer loyalty and bring in new customer segments whilst maintaining profits and improving margins through lower-cost ingredients and waste reduction.
Their handy checklist simplifies your decision as to which opportunities are relevant for your food environment, while real-world examples and case studies illustrate how these strategies work in a variety of contexts, from gastropubs to work canteens; primary schools to hotel buffets.
Leading Applied Behavioural Science is a not-for-profit dedicated to making it easier for us all to eat better food. For every book sold we will be making a donation to the Trussell Trust, which provides emergency food and support to people in crisis across the UK. Special discounts are available on quantity purchases by corporations, associations, and others. For more information send us a message via our contact page and we will get in touch.