You want to increase sales of the healthier options in your grab and go lunch bar, but what's the best way to do it? Tip 1 of 3 was to place healthier items in the prime location within your grab and go displays.
Tip 2 of 3: Use taste suggestibility
Although healthy food is becoming more popular, studies have shown that labelling foods as healthy doesn't mean you will sell more of them. Turnwald and colleagues conducted a study and found that restaurants often label healthier foods with far less appealing descriptions than less healthy options. In 2016, Suher and colleagues found that if customers are told a dish is healthy they feel less full after eating it, so using a health description to promote a dish could well put people off.
As mentioned in our first tip, Thorndike's study found that placing healthier items in prime locations within your food display and using traffic light labelling helps increase sales, but this can be strengthened by using fantastic food descriptions that tempt your customers. The customers at your grab and go lunch counter will be influenced by what catches their attention and tempts them first, so a great food description will be powerful in making your healthier options stand out.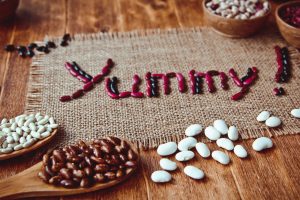 Consider how you name and describe feel good healthy foods to make them tempting to customers, and use descriptions to set these items apart. Don't just list the ingredients. Use suggestive text that can stimulate your customer's interest and appetite, invoke thoughts of the flavours and textures they will experience when they eat it, and how delicious it will look. Scientists call this 'taste suggestibility'. Turnwald and colleagues conducted another study in 2017 which showed how effective this is. Descriptions can include describing the spices, fresh herbs and other tasty ingredients; the myriad of colours and textures; and the tempting cooking techniques you use such as slow roasting, chargrilling or simmering. Take a look at our Healthy Profits book for examples of how you can use taste suggestibility in your food descriptions.
Follow us on social media to find out our next #ShapeItTopTips.
Find out even more tips in our new book, Healthy Profits, including how you can reinvigorate your food offer, use rewards and meal deals and LOTS more! Plus, by buying our book you'll get exclusive access to useful resources like our Healthy Profits checklist, case studies, action plan templates to name just a few! Get our book here!
Buy ebook from Amazon
Thanks so much to everyone who has helped us along the way and made Healthy Profits a reality. We couldn't have done it without you!
References:
Suher, J., Raghunathan, R. and Hoyer, W.D. (2016). Eating healthy or feeling empty? How the "healthy = less filling" intuition influences satiety. Journal of the Association for Consumer Research, 1, pp. 26-40.
Thorndike, A.N., Riss, J., Sonnenberg, L.M., and Levy, D.E. (2014). Traffic-Light Labels and Choice Architecture: Promoting Healthy Food Choices. American Journal of Preventive Medicine, 46(2), pp. 143-149.
Turnwald, B. P., Boles, D. Z. and Crum, A. J. (2017). Association between indulgent descriptions and vegetable consumption: Twisted carrots and dynamite beets. Journal of the American Medical Association: Internal Medicine, 77(8), pp. 1216-1218.
Turnwald, B.P., Jurafsky, D., Conner, A. and Crum, A.J. (2017). Reading between the menu lines: Are restaurants' descriptions of "healthy" foods unappealing? Health Psychology, 36(11), pp. 1034-1037.