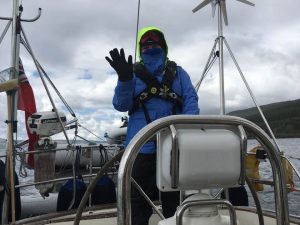 You can follow Tracey's (our co-founder's) adventures as she sails around the world finding out how feel good healthy foods are promoted overseas #traceystravels #cookingontheboat #HealthyProfits @FGFtracey Follow her on Instagram too @healthy_profits. Here's her first blog post…
Tracey Jefferies, her hubby Colin and two friends, Gwyneth and Ian Oliver, are setting sail for the Baltic in their shared yacht a Rustler 42. The boat is named Jolief, a combination of their surnames the J E F representing Jefferies and OLI representing the Olivers.
On the 6thJuly they are scheduled to join 16 other yachts at Rostock Germany for the start of the ARC Baltic 2019 organised by the World Cruising Club. Leg 1 of the trip starts Tuesday 9th July, and their itinerary will take them to Denmark, Sweden, Estonia, Russia and Finland completing back in Sweden on Monday 19th August.
Whilst on the trip Tracey is going to look at the food environments in the Baltic and check out what if any behavioural science is being applied to help customers make better food selections. She is also going to identify any common themes arising that could be tackled through the application of behavioural science. You can get updates on Instagram @healthy_profits. In addition, as avid cooks both Tracey and Gwyn will be sharing their cooking on the boat experiences.
Week 1: 3rd June 2019 – 9th June 2019
Starting at Victoria Doc, Caernarvon, Gwynedd, North Wales to Fort William, start of the Caledonian Canal, Scotland.
Averaging a speed of 11 knots on sail only we were literally blown into Port St Mary, Isle of Man in just 8.5 hours where we picked up a mooring buoy for the night.
We sat down to a quick cook sweet potato curry prepared from a recipe in the Green Roasting Tin* and promptly had an early night as we were all zapped.
A short motor round the island on Tuesday 4th into Peel Harbour where a feast of delights awaited. Home to smoked kippers (Herring), which are the big Manx Export, and Queen Scallops (otherwise known as Queenies) served in the island's top restaurants.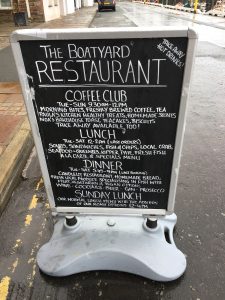 Kippers are a real health food packed with protein and omega fat, and Queenies are a great low-fat seafood choice full of protein and minerals. The Isle of Man also boasts Loughton sheep which produce a rich, gamey, lower in fat meat. Lastly, cheese and chocolate are the other two major exports. The Boatyard Restaurant looked fab and offered a menu of Paula's healthy treats! We hope she will share these with us at Feel Good Family.
Heading north we arrived in Portpatrick South West Scotland on Wednesday 5th with just enough tide to cross the rocks at the harbour entrance, others were not so lucky, abandoning entry after a few scraping noises (…oops!) and were left to rock around outside until 10pm when the tide changed. Tying up on the harbour wall we had a 30ft vertical ladder climb to reach the Crown Hotel (Facebook @crownhotelportpatrick). More seafood, in fact most of the bar and a la carte menu was seafood; from Cullen Skink to Orkney Mussels, Scallops and Scottish Salmon. The food looked amazing – though the portions were rather on the large side, defeating numerous guests. So, to the Crown we say if you are looking for ways to get customer feedback, and want to improve your margins and reduce waste check out our book, Healthy Profits.*
On Thursday 6th there was not much to report other than we had a spectacular surfing trip to Gigha especially around the Mull of Kintyre, where we anchored up. Followed by a veggie bean chilli prepared by Gwyn and an early night.
On Friday 7th June it was an early start for all of us as I woke up thinking it was 6.30am, but it was actually 5.30am, so everyone got an early cuppa. But, as it was beautiful day, there were no grumbles and we motored all the way in a strong headwind for Oban, Kerrera Island, meeting Gwyns hubby Ian who was now free to join the trip. After tying up at the marina we all went for a few beers and enjoyed fish and chips and crushed peas at the Way Point Restaurant. Massive portions and far too many chips (which were shared out between the menfolk at the table). Fantastic seafood offers though, from oysters to langoustines, crab and lobster. Telling, also, that the vegetarian starters and main courses offers had sold out by 7pm. There is a huge growth in customer demand for vegetarian options which we talk about in our book, Healthy Profits.* First week into the sailing trip and large portions seem to be the norm.
We went on a trip to the local farm shop first thing on Saturday 8th June, where I collected some amazing fresh eggs, paying my money into the honesty box. I came back and poached these and served them in an open croissant with some slivers of Scottish salmon, delish!
A quick provisions trip into Oban where there was an abundance of freshly cooked seafood at various pop up cafes. Local chocolate and coffee shops were very busy, and Italian ice-cream shops too. Some great local produce offers. The trend so far seems to be menus all written in the same size font, not making any particular foods stand out. Restaurants could benefit from how to promote healthier foods because many of us don't currently eat a balanced diet, and lots of us are overweight – and visitors to Oban were no exception. Increasing sales of healthier options starts with making sure it catches consumers' attention first. Make those menus work for you!
Off to Tobermory in the afternoon it was a #cookingontheboat evening with a puy lentil, tahini and cumin mash from Yotam Ottolenghi's Plenty More* book, served with warm flatbreads, accompanied by a homemade recipe of harissa chicken with lemon and garlic, and halloumi for the veggies amongst us. This was followed by nectarines roasted in honey, 5-star anise, cinnamon sticks and peach liqueur, served with Greek yoghurt, a great recipe from Healthy Appetite by Gordon Ramsey.*
We were joined by friends Gill Govan and her hubby Colin. Gill makes bespoke chandeliers, each one designed with the buyer's interest in mind, or using family treasures as materials. Each is unique and would make amazing a fabulous wedding gift. https://www.gillgovanglass.co.uk/
Morning coffee and local Tobermory biscuits at Gills and Colin's Cottage on Sunday 9th and the chance to view Gill's beautiful handmade chandeliers, before heading off to Fort William where we anchored at the start of the Caledonian Canal with some #cookingontheboat quorn chilli, mainly because the freezer had gone off and we needed a massive cook off!