You want to increase sales of the healthier options in your grab and go lunch bar, but what's the best way to do it?
Tip 1 of 3: Position healthier choices in the prime location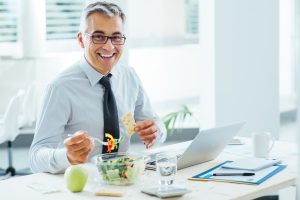 The nature of a grab and go lunch counter means your customers are after a quick convenient option, and are likely in a hurry. This means they are influenced by what stands out and catches their attention first. Big brands don't pay for prime location on shop shelves for nothing – they know it works. Items positioned in the middle of a shelf and at eye level are selected nearly 300% more than when placed on the left, as shown in a study by Keller in 2015.
Thorndike and colleagues conducted a study in a hospital cafeteria in the USA where items were labelled green (healthy); yellow (less healthy); or red (unhealthy) and, importantly, they also rearranged the offer to make healthy items more accessible. With just these simple changes they found that sales of less healthy items dropped by 17% and green healthier food sales increased by 11% which was sustained even two years later.
So make sure you place the healthier options in the middle of the display customers tend to browse first, and not in the bottom corner of the display, or tucked away in a separate healthy section around the corner. Although Thorndike's study might suggest that you should use traffic light labelling to highlight your healthier options, don't forget that many of us aren't motivated by health so take a look at our next top tip to see what else you could do.
Follow us on social media to find out our next #ShapeItTopTips.
Sign up to get updates to your email inbox, follow us on Twitter @healthy_profit, Facebook @healthyprofitsfgf and on LinkedIn. Also follow us on Instagram @healthy_profits as Tracey sails around the world finding out how feel good foods are promoted overseas.
Find out even more tips in our new book, Healthy Profits, including how you can reinvigorate your food offer, use rewards and meal deals and LOTS more!! Plus, by buying our book you'll get exclusive access to useful resources like our Healthy Profits checklist, case studies, action plan templates to name just a few! Get our book here!
Buy ebook from Amazon
Thanks so much to everyone who has helped us along the way and made Healthy Profits a reality. We couldn't have done it without you!
References:
Keller, C., Markert, F. and Bucher, T., (2015). Nudging product choices: The effect of position change on snack bar choice. Food and Quality Preference, 41, pp. 41-43.
Thorndike, A.N., Riss, J., Sonnenberg, L.M., and Levy, D.E. (2014). Traffic-Light Labels and Choice Architecture: Promoting Healthy Food Choices. American Journal of Preventive Medicine, 46(2), pp. 143-149.